What do the sons of a farmer, a minister and a PE instructor have in common with the daughter of an Argentine Formula 1 race car driver?
One has roots near the Carpathian Mountains of Ukraine, one from Moldavia, one from the highlands of Scotland and the fourth from Guatemala City.
Two are Fraser Valley realtors, one is a mortgage broker and one a notary. All four believe in the ancient wisdom that says there is much greater strength in a four strand cord rope than in a single cord. And a five strand cord can even be stronger. Yes each can lift a given amount of weight alone, but together, what strength!
"This is the great multiplier of working with like-minded, Allied Professionals" says Kiffiak who recently brought together Fullerton to secure financing for a property purchase, and Cazacu who facilitated the title transfer by completing the deal on Christmas Eve. The first time home buyers were ecstatic that they could purchase the home and in their preferred time-frame.
"There is great joy in seeing people connect to facilitate good things happening. We all have our unique strengths!" Kiffiak went on to say, "Dave works with over ninety lenders and can arrange 'miracle' mortgages in the lower mainland and throughout the province; Lilian bends over backwards helping clients get their "house" in order with his legal knowledge plus arranging wills: and Beatriz and I have connections to bring buyers and sellers to the table for investment or private sales and purchases. Besides, I am a connector, and just love to bring rewarding business to my friends, these Allied Professionals. Getting compensated monetarily, is a bonus!"
Kiffiak continued "It is a special pleasure to work with professionals, introduce them and encourage them to become allies. Eventually we become good friends, support one another during tough times and laugh when life is carefree."
So how does the daughter of the race car driver fit into this group? Beatriz is out front of them all. She is the net worker bring in new clients, encouraging those in process, building long term relationships and celebrating when the immediate transaction is complete. I forgot to tell you her grandfather had a village is Switzerland named after him and one of her grandmother's was a Basque encourager and another an Italian saint.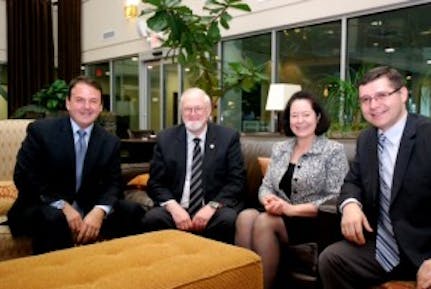 Left to right, Dave Fullerton, Dennis Kiffiak, Beatriz Fontana & Lilian Cazacu at the atrium of Lilian's office building in Langley.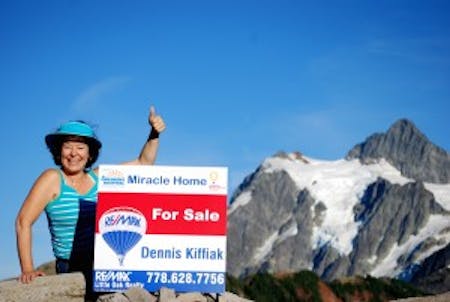 Beatriz celebrating on top of Mt Baker.